Edit: Haven't checked the Nuzlocke Forums in a while but I got nominated for Most Improved Run...
WHEN DID THIS HAPPEN?!
Yeah I guess I did improve quite a lot.. *checks first page of nuzlocke* ...damn. It was a phase. But seriously.
Thanks. Thank you all. I just... what. Truth is, I don't really like how my nuzlocke's turning out but... You guys are awesome.
Not sure how the Nuzlocke Extravaganza's gonna be like. I'm pretty sure I'm not going to win but who cares? I got a nomination. That's all I care about right now. Now for the image..... *blank stare*
-----------------------------------------------------------------------------------------------------------
--------------------------------
YES I CONQUERED THE FINALS, IT'S WINTER BREAK, AND THE SUN IS UP INSTEAD OF THIS GUY: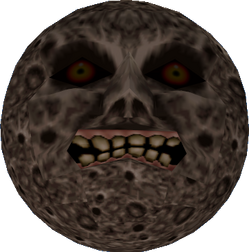 But something might happen tonight? Who knows? *flips through Mom's Bible* RESEARCH.
Yeah I spent all week studying (holycrapstudying?!) and there was some family problems here and there(pretty stupid though) but
SOME NEWS.
---
On Tuesday(or was it Wednesday?), I received an early Christmas gift from my folks.
Meet Jenny, our new family pet Pomeranian.
FREAKING ADORBS.
I literally screamed and almost hugged her to death :3
/was mostly playing with the puppy instead of studying shhh
Kinda wanted to choose the name but my parents.. well... they like names that start with the letter "J".
Joanne, James, Joseph, Julie, Julie II, Jackie, Judy, Jemmy, Jumba, Jenny
Parents...
---
Kinda going through the "OHGODMYARTISSHITTTT" phase. My drawing style is NEVER constant; it's driving me nuts.
OH btw, I've been thinking about the gijinka nuzlocke challenge. I guess I'm doing HGSS and I'm having a good time planning it out, unlike my Pokemon Emerald Nuzlocke, where I just started out freaking cray-cray with no plot idea whatsoever. Seriously. Never knew how cereal the nuzlocke was going to be so I've never thought of a story kinda line. But THANK GOD I TOOK GREAT NOTESherp. DEN might be pretty short but since I'm pretty sure I'm gonna do the gijinka nuzlocke, I'll try to make the gijinka nuz longer and better.
thats whut she said
Was doodling and derping but here you go, a design of my main character for the gijinka nuz:
STILL THINKING ABOUT THIS GUY'S NAME. HAVING SOME NAMING DIFFICULTIES HERE.
I kinda started playing HGSS on an emulator but my bro's planning on buying me an R4 for my birthday soooo... I might just wait until I get the darn thing so that I could download the game and play on my DS there.
---
Planning on livestreaming sometime during the break. Of COURSE you guys want me to do a request stream. AM I RIGHT OR AM I RIGHT?! D:<
Oh yeah, finally played that game called "Ib". Kinda old, I know but... OMG MY FEELS. GOT THE SADDEST ENDING I SWEAR. GARRRY ;A;
OH MAN


ALSO. GANGNAM STYLE REACHED OVER 1 BILLION VIEWS HOLY CRAP. AND JUST WATCHED REWIND YOUTUBE STYLE. IT'S AWESOME AS HELL.



×

×




+

+

+

+